Main 3-Position Function Switch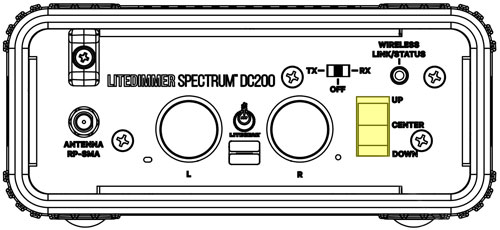 CENTER POSITION:
The new user interface, while familiar-looking, is now streamlined. Starting with the switch in the CENTER position, access to settings can be gained by pressing the RIGHT screen-side "MENU" button. From here navigation and selection are performed using the LEFT encoder, rotate to advance, short-press to select. The classic iPod-like menu allows for one-handed operation that's quick and intuitive.
UP POSITION:
With the switch in the UP position, Spectrum offers simple white-light control (True-Hybrid Mode) regardless of selected mode or settings. This always-active feature is great for quick and under-the-gun setups especially with a crew that's not yet familiar with the joys of using Spectrum LiteMats.
DOWN POSITION:
With the switch DOWN, this is where things get interesting. All local modes and functions are operated from this switch position.